Accepting an Estimate
When you fill out the Inquiry form on the Soliant.cloud website, you'll receive an email with a PDF estimate and a link to set up your Portal account. Clicking the link in the email will prompt you to set a password for your account and log in. Once logged in, you will see a list of the instances associated with your account. For an instance in an "Estimate" status, you can accept the hosting agreement, provide your FileMaker license information, and add a credit card to your billing profile. These three items must be completed before your instance can be built.
Invoicing
You can access all of the invoices for your instances on the Soliant.cloud customer portal. Click the "Invoices" button in the site header, and from there, you'll see a list of your invoices which you can select and download.
SnapBacks
All of the instances associated with your account are listed in the SnapBack section of the Portal. Once an instance is selected, you are able to see all of the SnapBacks available for it. Clicking the "Mount" button will recall the SnapBack as a new drive attached to the instance, and an email will be sent to you with instructions detailing how to FTP to the SnapBack and access the contents of the drive. The SnapBack is a snapshot of the database directory, which can contain database files, scripts, and manual backups.
Managing an Instance
Rebooting an instance
You can send a command to reboot your instance from the Portal. Once selected and confirmed, a reboot command will be sent to the instance via the AWS API. All active user sessions will be terminated, and the instance will reboot within a few minutes.
Increasing the instance volume size
Should your instance need more space for your database files, you can use the Portal to increase the size of the database volume. Note that the database volume size can only be increased and never decreased. After you select the new volume size, you can elect to make the change take effect and reboot the instance immediately, or at night during the regular maintenance window. All active user sessions will be terminated, and the instance will reboot at that time.
Logging into the portal
If you have an error when logging into the portal, you may need to clear your browser cache before logging in. If you are using Chrome as your web browser, you can also try to force reload the page instead of clearing the browser cache.
In Chrome on a Mac, select Chrome from the menu and then "Clear Browsing Data" to get to the dialog. On Windows with Chrome, use the Chrome menu and select "More Tools" to get to the "Clear Browsing Data" menu item.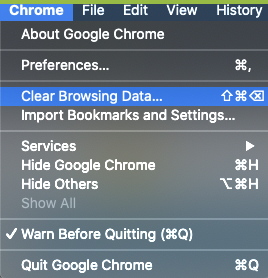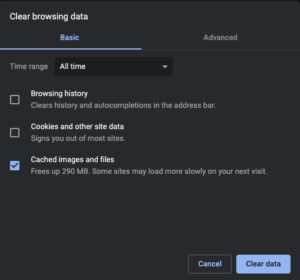 If you continue to receive the error, contact our support team for further assistance.