Soliant.cloud® Knowledge Base
Updating FileMaker Server
Keeping up to date with the latest version of FileMaker Server can mean more than simply updating the FileMaker software component. When we update a server, you get a new build that has been tested to work with all the latest updates included. Rather than updating one component, we have a plan to "Evolve" a server to get the most from your solution.
Read more…
Weekly Maintenance Window
As part of the services we supply to clients hosting FileMaker Servers with Soliant.cloud, we will do regular monitoring and maintenance on the underlying operating system. In order to keep these up to date on a regular basis, as well as keeping your server healthy and available as much as possible, we will occasionally perform maintenance and/or reboot the server as needed.
Read more…
FTP access to your Soliant.cloud FileMaker Server
To access your server via FTP-SSL, you can use the same security credentials you use to access the FileMaker Server Admin Console. You can use any supported application that is capable of using FTP-SSL. One that we like and is freely available shareware for both Windows and OS X, is Cyberduck. In addition to handling multiple FTP protocols, Cyberduck also supports accessing FTP-SSL.
Read more…
Uploading large files
FileMaker Server instances running on Soliant.cloud already have the capability to upload FileMaker Files with the built-in functionality in FileMaker. However, there are times when it is more efficient to move large files or entire folders via another transport mechanism.
Read more…
Domain Name Options
When you host your FileMaker Server with us, we provide, at no additional cost, a domain name suitable for production use. Along with the domain name we provide, you will also get properly configured SSL as part of the services we provide at no additional cost.
This can be advantageous and avoid time spent on purchasing and configuring SSL to work with your server. Most of our clients benefit from not having to worry about properly navigating SSL certificates and getting them to work with FileMaker clients without error. With our provided SSL, you can be sure it will work without hassle.
However, nothing prevents you with using your own domain name, should you choose to do so. If you wish to use a custom domain name, there are options to consider, and we can help with those.
If you want us to register a domain, manage DNS and purchase and SSL on your behalf, we can assist with that and take care of all the technical details and configure DNS and SSL. Applicable charges will be billed at our standard rate.
You may already own a domain that you would want to use. Technically this is something you would be able to support should you choose to manage the DNS and purchase a compatible SSL certificate for your server. Each instance uses a static IP address, so you can able to add a DNS record for a custom domain name you already possess. You will need to acquire an SSL certificate and are able to update that via the FileMaker Server Admin Console.
With this last option, where you provide DNS and SSL, we would be happy to assist, if needed. Standard rates would apply for time as required.
Entering FileMaker Licensing
While we are happy help you manage your FileMaker Licensing and configure it on your behalf. This is entirely serviceable in your FileMaker Server instance should you want or need to manage it. Recent versions of FileMaker Server now require an additional certificate file when entering your licensing information.
Upon activation, each instance is configured with FileMaker Server running in Trial mode. You have 15 days to install your FileMaker Server License Organization name and License certificate.
All FileMaker Servers are required to have active licenses from FileMaker. We can work with you to make sure your license is up to date in order to stay compliant with licensing terms.
Where you download your FileMaker software, you will find a download for the certificate file. This will be a file named "LicenseCert.fmcert" and is actually a text file with your license information encoded in it.
To apply your FileMaker License in Server, log into FileMaker Server and navigate to Administration to view License Details. To update your License, click on "Import License Certificate" where you will be prompted to select the "LicenseCert.fmcert" file, and enter the Organization name.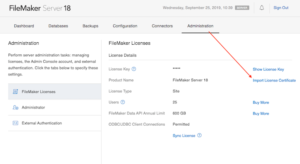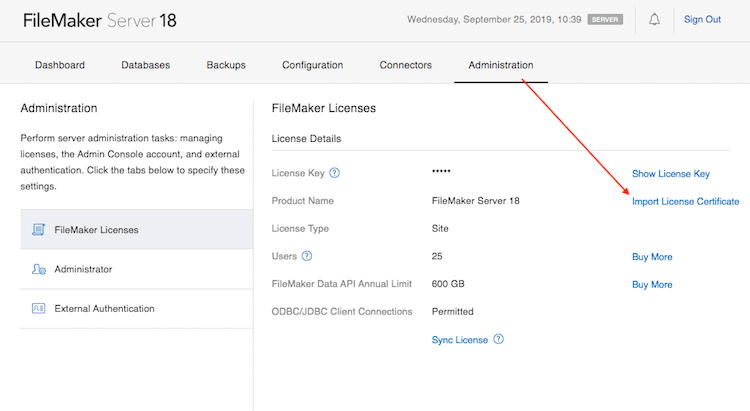 The Organization must match what you used to purchase your FileMaker licensing.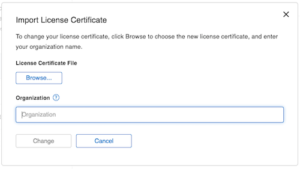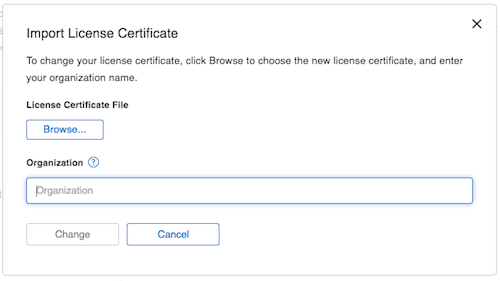 When successfully entering your license, it will show the number of users you are licensed for along with the API limit.
If you need help adding or updating your FileMaker license, please contact us for more information.
Adding SMTP services
If you need to have your Soliant.cloud hosted solutions send email, such as notifications or transactional emails, you can contact us to configure an account that allows sending through SES (Simple Email Service) available from AWS (Amazon Web Services).
Read more…

"The team at Soliant is great to work with! Very smart, very friendly folks, always working hard to make sure their customers are satisfied. Their breadth of knowledge and wealth of experience makes tackling new challenges with them much less intimidating."
Bryn Behrenshausen, Art is Love, LLC